Mechanical Solutions exhibition space in Ierapetra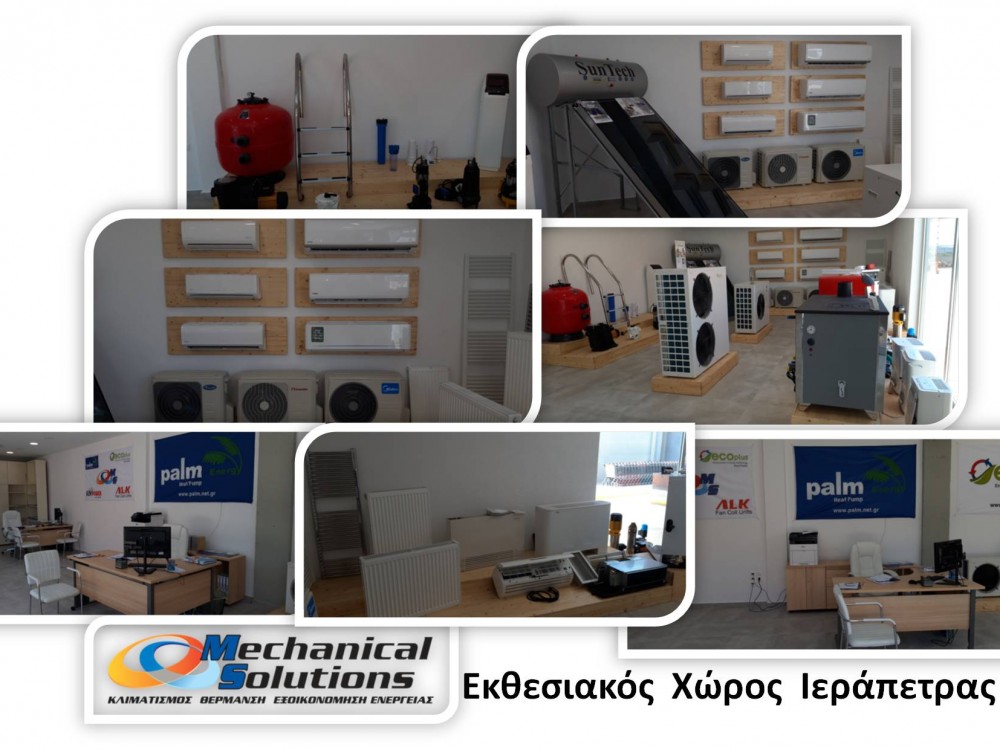 You will find us 1st km of Ierapetra-Pahia Ammos
The company MECHANICAL SOLUTIONS was founded in 2007 in Agios Nikolaos, Crete by Datseris Nikolaos, Mechanical Engineer MBA. In 2013 it was moved to a new store at 51 K. Karamanli Avenue, 900 sq.m., where it is located until today. The company is active in the field of electromechanical applications.
Having in its potential specialized engineers, technicians and branded products, it provides complete solutions (design, design, marketing, construction & service) in residences, hotel units & large private projects. Guided by quality, MECHANICAL SOLUTIONS provides the solution for every application of heating - air conditioning and energy saving. The purpose of the company is to offer advanced solutions, technically optimal, in every electromechanical application, always taking into account the energy efficiency and the protection of the environment. Having experience in the design, study and construction of specialized electromechanical applications, we are able to help you formulate the ideal proposal for you, through a number of solutions that we will personalize.
After 10 years of operation and with the trust shown by its customers nationwide, the company has expanded and has 3 branches, two in Crete Heraklion & Ierapetra respectively and the third in Athens as well as warehouses in Agios Nikolaos with an area of 300sqm. in Heraklion 600sqm and in Athens 1300sqm. Since 2015 the company has developed export activity in Cyprus where it distributes its imported products. As a vision, the company has its development, to expand to other areas of Greece and abroad, always guided by the better service of its customers and the creation of new partnerships.
Strong partnerships with world-renowned companies such as SIEMENS, CHAFFOTEAUX, LG, PALM, REHAU, ECOPLUS, UPONOR, RHOSS, INVENTOR, MIDEA, UNICO, HANSA, SUNTECH, VORTEX, guarantee our reliability and guarantee.
In our stores you will find a wide range of heating and air conditioning products.
Agios Nikolaos
L. Karamanli 51, Agios Nikolaos
Telephone: 28410 23150,
fax: 28410 23161

Ierapetra
1st km of Ierapetra-Pahia Ammou
Telephone: 2842408030

Heraklion
1. Theonon 2, Therisou area,
Telephone: 2810 335540
Fax: 2810 335528 PC 71305
2.Alona Location, Karteros, Heraklion
Telephone: 2810 381410
Fax: 2810 381450

Athens
Artemidos 26, Metamorphosis Tel: 211-4056400

We are waiting for you!
Yours sincerely
Mechanical Solutions